While the planet is being tested by coronavirus… Turbomed continues to meet your needs safely
While the planet is being tested by coronavirus …
Turbomed continues to meet your needs safely
In these difficult conditions the world is going through, plagued by Coronavirus Covid – 2019, we consider our work socially necessary, trying not to stop transports, serving the needs of shipping.
Our experienced technicians are at local stations around the world and, while complying with all health and safety standards, they can offer comprehensive repair, inspection and maintenance services in order to ensure the proper operation of ships which often carry essential items in the global market.
Fully aware and responsibly, we stand by your side in order to meet your needs and to contribute, on our part, so that the transport of sea freight can continue uninterrupted.
TURBOMED SA with 42 years of presence in the field of turbocharger services, holds a leading position in the domestic and international market providing turbocharger services, for Marine & Navy, Oil & Gas, Power Plant turbochargers.
"Well-trained service engineers are always available to support you anywhere around the world"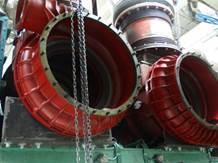 Turbocharger Upgrade – Retrofit
TURBOMED, through many years of experience in turbocharger services can responsibly suggest a successful retrofit or upgrade solution according to the latest technological developments.
Make the right move if… Read more
T/C complete
RECONDITIONED T/C ABB VTR SERIES TPS-TPL
MET TURBO MET 18SRC- 53SD IHI RH series MAN NA34/S – NR20/R- NR15/R – TCR- TCA
T/C Cartridge
MAN NR12/S- NR15/R- NR20/R- NR29 TCR -TPS 52 – TPS48-TPS52- MET18SRC RH133- RH163 -RH183 – KBB SERIES
Contact us today for any turbocharger inquiry, we will be glad to help you!